Mangfold/Diversity/Kirjo - NSFP
Desember/December/Joulukuu 2005 <![if !vml]>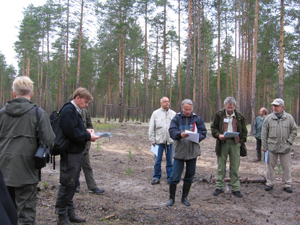 <![endif]>
Skandinavisk
Suomi
English
Bildet: En försöksplantering i Komi med bl a nordsvenska plusträdsavkommor är en del av ett påbörjat utbyte av genresurser.
Kuva: Metsägeenivarojen vaihtoon liittyvä koeistutus Komissa. Koealalla on mm. pohjoisruotsalaista pluspuujälkeläistöä.
Photo: An experimental plantation in Komi with –among other materials - Swedish Scots pine plus tree progenies is part of an initiated exchange of forest genetic resources.
Möte 2005 med den nordiska gruppen för förvaltning av trädens genresurser
Av: Dag Lindgren

Mötet ägde rum den 13-15 september 2005 i Syktyvkar, Komi, Ryssland, ca 1000 km nordöst om Moskva. Det arrangerades av Dr Aleksey Fedorkov, Institutet för biologi, Komis vetenskapliga centrum vid Ural-avdelningen av Ryska Vetenskapsakademin. Temat var: "Status, uppföljningar och mål för förädlingsprogram". Det var det första mötet gruppen hade i Ryssland. Norra Ryssland rymmer större genresurser av de ekonomiskt viktigaste grödorna för norra Skandinavien än de Nordiska länderna sammantaget, det var hög tid för gruppen att uppmärksamma dessa. Denna högst relevanta genresurs har aldrig testats ordentligt i de nordiska länderna, men nu börjar önskvärda experiment att realiseras.
Mötet samlade 41 deltagerare från Danmark, Estland, Finland, Lettland, Norge, Polen, Sverige och Ryssland. Under två inomhusdagar presenterades 23 föredrag och 7 posters. "Proceedings" är under utarbetande.
Utbyte av genresurser mellan Komi och norra Skandinavien har nu kommit igång, vilket återspeglades genom att exkursionen besökte: 1) ett försök med bl a svenska plusträdsavkommor där nordsvenska och nordryska material kan jämföras; 2) ett försök under anläggning där avkommor från de svenska contortafröplantsplantagerna planteras. Därigenom blir huvuddelen av Sveriges contortagenresurser tillgängligt för Komis skogsträdsförädling; 3) Ett bestånd där det stod snygga plusträd av lärk som används i SIBLARCH, ett internationellt projekt som samordnas från Sverige.
Nordiska möten stödda av Nordiska finansieringskällor har en lång tradition, men benämning och organsationsform har varierat. Nu har GENECAR tagit över ansvaret för funktionen, så vi ser fram mot lika fruktbärande möten i framtiden också.

Skogsgranen (Picea abies) växer numera i så gott som alla nordiska länder, men dess naturliga utbredningsområde täcker inte Danmark, den norska västkusten och inte heller södra Sverige - för att inte tala om Island. De bästa växtplatserna för granen är näringsrika och fuktiga marker, där den kan bli till och med 40 meter hög. Granen tål skugga bättre än de flesta av våra trädslag men naturligtvis är tillväxten sämre i skugga. En manshög "granplanta" som har vuxit i skuggan av ett trädbestånd kan vara lika gammal som en gran som har vuxit på en gynnsammare växtplats och är lika stor som ett timmerträd.
Granen hade möjligen själv också brett ut sig över hela den skandinaviska halvön, men människorna var otåliga och började hjälpa till. Granen kom inte till Fennoskandien förrän för cirka 3000 år sedan, och har ännu inte hunnit utvecklas till att snävt anpassa sig till en plats, sålunda tål den också långa flyttningar från ursprungsplatsen. Som sågvara och råämne för pappersindustrin har granen utmärkta egenskaper vilket uppmuntrade till en utbredning av granen kanske till och med för ivrigt. Men granen har också använts inom folkmedicinen och naturligtvis har granris också använts som dekoration - speciellt i jultider. Om din julgran skjuter ljusgröna granskott under julhelgen är det värt att smaka eller koka ett maglugnande te på dem. (Av: Leena Yrjänä)


Pohjoismainen metsänjalostajien ja metsägeneetikkojen vuoden 2005 kokous
Dag Lindgren

Kokous pidettiin 13.–15. syyskuuta 2005 Venäjällä Komin pääkaupungissa Syktyvkarissa n. 1 000 km Moskovasta koilliseen. Kokousjärjestelyistä vastasi pääosin tri Aleksey Fedorkov Venäjän tiedeakatemian Uralin osaston alaisesta Komin tiedekeskuksen biologian instituutista. Kokouksen teemana oli jalostusohjelmien nykytila, seuranta ja tavoitteet. Osanottajaryhmälle kokous oli ensimmäinen Venäjällä. Pohjois-Skandinavialle taloudellisesti merkittävimpien puulajien geenivarat ovat Pohjois-Venäjällä suuremmat kuin Pohjoismaissa yhteensä, joten ryhmän oli korkea aika kiinnittää niihin huomiota. Tätä erittäin tärkeää geenivarantoa ei ole aiemmin testattu kunnolla Pohjoismaissa, mutta nyt tarpeellisia kokeita ollaan aloittelemassa.
Kokouksessa oli yhteensä 41 osanottajaa Latviasta, Norjasta, Puolasta, Ruotsista, Suomesta, Tanskasta, Venäjältä ja Virosta. Kahtena varsinaisena kokouspäivänä kuultiin 23 esitelmää ja esitettiin seitsemän posteria. Kokouksen asiakirjoja laaditaan parhaillaan.
Komin tasavallan ja Pohjois-Skandinavian välillä on käynnistynyt geenivarojen vaihto, ja retkeilykohteena olivatkin 1) mm. ruotsalaista pluspuujälkeläistöä sisältävä koeala, jolla päästään vertaamaan pohjoisruotsalaista ja -venäläistä aineistoa, 2) rakenteilla oleva koeala, johon on tarkoitus istuttaa Ruotsista tuotua kontortamännyn siementaimijälkeläistöä; Ruotsin kontortamännyn geenivarat ovat siten pääosin Komin ulottuvilla, 3) komeita lehtipuupluspuita kasvava metsikkö; puut kuuluvat osana Ruotsista koordinoitavaan kansainväliseen SIBLARCH-projektiin. Pohjoismaisten rahoituslähteiden tukemilla pohjoismaisilla metsänjalostajien ja metsägeneetikkojen kokouksilla on pitkät perinteet, joskin nimet ja organisointimuodot ovat vaihdelleet. Nyt vastuu on siirtynyt GENECARille, joten jatkossakin on varmasti odotettavissa antoisia kokouksia.

Metsäkuusta (Picea abies) kasvaa nykyisin jokseenkin kaikkialla Pohjoismaissa, mutta sen luontainen levinneisyysalue ei kata Tanskaa, Norjan länsirannikkoa eikä Etelä-Ruotsia - Islannista puhumattakaan. Kuusen parhaimpia kasvupaikkoja ovat ravinteikkaat ja tuoreet maapohjat, joilla se saattaa saavuttaa jopa yli 40 metrin pituuden. Kuusi kestää varjostusta useimpia puulajejamme paremmin, toki sen kasvu on varjossa vaatimatonta; varjostavan puuston alla kasvanut, ihmisen mittainen kuusen "taimi" saattaa olla yhtä vanha kuin suotuisemmassa paikassa kasvanut, tukkipuun mitat saavuttanut kuusipuu.
Ehkä kuusi olisi itsekin ajan myötä laajentanut levinneisyyttään kattamaan koko Skandinavian niemimaan, mutta ihmiset olivat malttamattomia ja ryhtyivät auttamaan. Kuusi saapui Fennoskandiaan vasta n. 3000 vuotta sitten eikä se vielä ole ehtinyt kehittyä tiukasti paikkaan sopeutuneeksi, joten se kestää pitkiäkin alkuperäsiirtoja. Sahatavaran ja paperiteollisuuden raaka-aineena kuusella on erinomaisia ominaisuuksia, jotka kannustivat levittämään kuusta ehkä jopa liiankin innokkaasti. Mutta on kuusta käytetty myös kansanparannuksessa ja tietenkin myös koristehavuna - etenkin näin jouluaikaan. Jos joulukuusesi puhkeaa kasvamaan hempeän vihreitä kerkkiä joulun pyhinä, niitä kannattaa maistaa tai kiehauttaa niistä vatsaa rauhoittavaa kerkkäteetä. (Leena Yrjänä)

The meeting 2005 of the Nordic group for management of genetic resources of trees
By: Dag Lindgren

The meeting was held in Syktyvkar, Komi Republic, Russia, at September 13-15, 2005. Syktyvkar is situated around 1000 km north-east of Moscow. The meeting was arranged by Institute of Biology, Komi Scientific Centre of Ural Division of Russian Academy of Sciences. Main organiser was Dr Aleksey Fedorkov The theme was: "Status, monitoring and targets for breeding programs". It was the first meeting of this group ever in Russia. Northern Russia harbours a larger gene resource than the Nordic countries combined for their economically most important crops: northern Scots pine and Norway spruce, besides being home to Siberian larch and other useful species. This relevant gene resource has been poorly tested in the Nordic countries, but now experiments are being initiated.
There were 41 participants from Denmark, Estonia, Finland, Latvia, Norway, Poland, Sweden and Russia. During two indoor days 23 oral presentations and 7 posters were presented. Proceedings from the meeting will appear soon. During a field trip experiments, seed orchards and a forest museum was visited.
Exchange of genetic resources between Komi and north Scandinavia has been initiated, examples of that was seen during the excursion: 1) an experiment with Swedish Scotch pine plus tree progenies together with Russian material; 2) an experiment in preparation with material from Swedish seed orchard harvests of lodgepole pine; 3) a stand with nice larch plus trees, which are used for SIBLARCH, a northern periphery international project with coordination from Sweden.
Nordic forest genetic/tree breeder meetings supported by Nordic sources have a long tradition, although the actual name and organisation varied. Now the function is taken over by GENECAR. Let's hope coming meetings will be as successful as this one.
Spruce
Spruce (Picea abies) now grows more or less throughout the entire Nordic region, even though its natural geographic range does not cover Denmark, Norway's west coast and southern Sweden - and not to mention Iceland. Spruce prefers moist, nutrient-rich soil, and on such sites, spruce trees can attain heights of 40 m. Spruce tolerates shade better than most other Nordic tree species, even though growth is naturally poorer on shady sites. Two trees of the same age growing on two different sites illustrate this: whereas the spruce growing in the shade of an older stand merely attained a height of about 2 m, the tree planted on an open site may soon be ready for harvest.
Left to itself, spruce would have eventually spread all across Scandinavia, but humans were impatient and began spreading the species. Spruce appeared in Fennoscandia about 3000 years ago. It still has not become specifically adapted to a narrow range of site conditions, and thus, the species can be successfully moved far from its original habitats. Spruce has excellent qualities for the sawmilling, pulp and paper industries. This promoted its use all across Scandinavia - and perhaps the species was spread a bit too much. Furthermore, spruce was used in popular medicine and of course as decoration - especially for Christmas. So if your Christmas tree decides to put out fresh shoots this year, don't hesitate to brew a stomach-soothing tea of them. (By: Leena Yrjänä)