Three Outstanding Doctoral Research works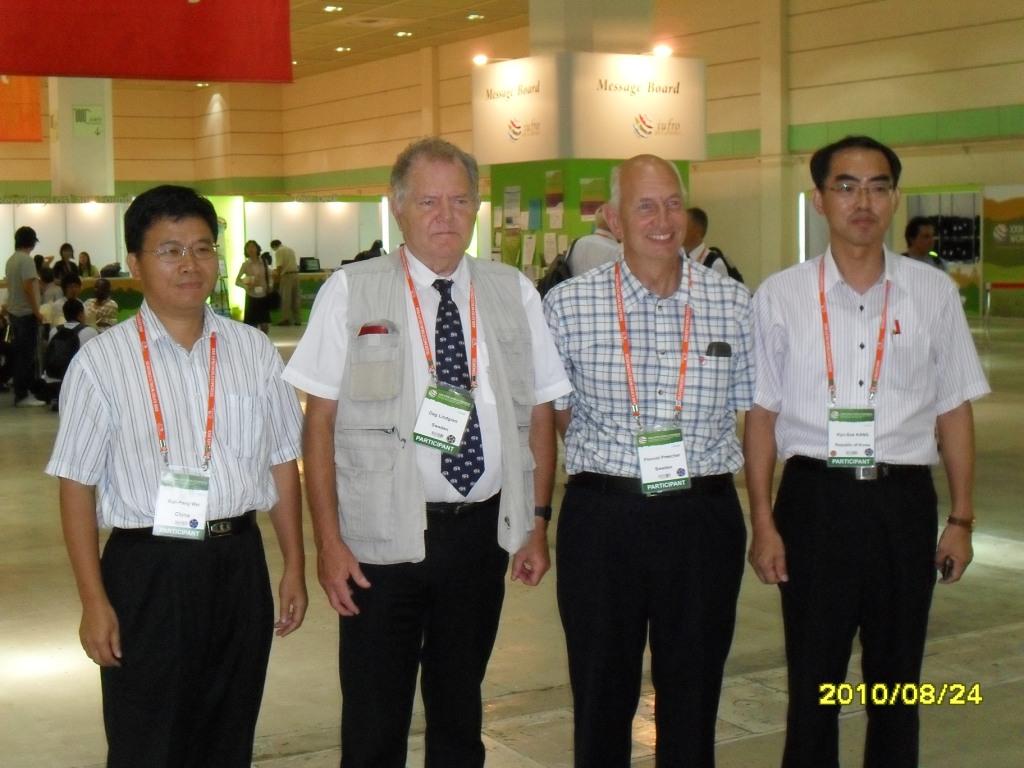 Dag Lindgren surrounded by three Outstanding Doctoral Research Awardees at IUFRO world conference in Seoul. From left: Run-Peng Wei; Dag Lindgren; Finnvid Prescher and Kyu-Suk Kang.
The International Union of Forest Research (IUFRO) has a world congress each 5th year. The last world congress was in Seoul in August 2010. Previous congresses took place in 2000 and 2005. At these occasions IUFRO shares awards. One Award is "Outstanding Doctoral Research Award" (ODRA). ODRA recognizes outstanding individual achievements and can be regarded as the best recent doctor thesis in the world. ODRA awards are given to the field of each IUFRO division. Division 2 deals with physiology and genetics. There are some hundred PhD thesis to select among at each occasion. This means that three times in a row IUFRO has decided to award PhD students of Dag Lindgren. A term for three successful runs in a row is "hat trick" (used in Sweden).
The latest ODRA awardee is Finnvid Prescher (2010).
Links concerning Finnvid Prescher ODRA (most of them vanished the last years, some were changed and could be restored, URL does not live for long)
_https://arbetsplats.slu.se/sites/sfak/Nyhetsbrev/Sfak_nyhetsbrev091218.pdf   _
_https://arbetsplats.slu.se/sites/sfak/Nyhetsbrev/Sfak_engnyhetsbrev091218.pdf    _
_Nordgen-Skog _
_http://skogstradsforadling.se/wp-content/uploads/2012/09/Arsbok_2009.pdf
_ http://www.skogsaktuellt.se/?p=32913&pt=108&m=1422 _
_ Västerbottenskuriren 100116 _
_ PlantAktuellt 2009-4:3 _
_ IUFRO Newsletter August 2010 _
_ http://www.goforwood.info/fr/news.php?id=28660 _
_ http://www.upsc.se/about-upsc/news/3720-the-third-outstanding-doctoral-research-award-in-a-row-to-the-department-of-forest-genetics-and-plant-physiology-at-upsc.html  _
_ WP Seed orchards _
_ PlantAktuellt 2010 2:1-2 _
<![if !supportLineBreakNewLine]>
<![endif]>
The "ODRA" for Division 2 "physiology and genetics" 2000. 2005 and 2010 are listed in the Table below. The lists of papers in the thesis of the awardees is what finally came out from the thesis chapters.
All made there thesis work at Department of Forest Genetics and Plant Physiology at the Swedish University of Agricultural Sciences, Umeå and all had Dag Lindgren as supervisor. The proposals were raised by different persons or organisations, supported by different persons and dealt with different persons in IUFRO awarding committee and board. It ought to be a handicap that these awards were given to students from the same department, the same country, the same supervisor and similar agenda. Thus it cannot be a coincident depending only on unusually bright students, but also the other joint factors must have been important. As far as I understand no ODRA awardee has been identified as a Swede until Finnvid Prescher got it 2010. Wei is identified as Canadian and Kang as Korean.
Dag Lindgren and his three ODRA students, photo taken at Dag Lindgren's 65 year birthday 070927 Suggested text: The supervisor with his three Outstanding Doctoral Research Awardees. From left Run-Peng Wei, Finnvid Prescher, Dag Lindgren and Kyu-Suk Kang. photo: Jan-Erik Nilsson
Article following Kyu-Suks ODRA (Journal for the SLU employee in Swedish)
Features of the three awardees:
They choose Dag Lindgren as supervisor and approached me with the funding reuired to start from their employer.

Two of them I met at the first time when the arrived in Umeå airport.

All had family (spouse and children) during their studies

All three had employment and experience within the area of the thesis work before starting the PhD work.

All were "employed", thus had a job to return to when ending the studies. Two of them did, the third made a "postdoc" after the PhD.

The thesis are similar in style and target journals

The thesis are all unusually "thick", 11-13 chapters, of them 9-13 journal papers, which is more than double the average at the faculty.

All manuscripts at the dissertation heading for journals were published (100% success rate).

Journals of publication are normal forest journals more often than general. Citation of the awardees work is not spectacular high.

The emphasis of the thesis is not on data generation, but on analysis. Variants of effective number and genetic diversity are important for all three.

The awards 2005 and 2010 are focused on seed orchards

At least two thirds of the papers are with the supervisor. The

thesis are

all evident examples of fruitful interaction between supervisor and student.

Two of the thesis included studies with other students in the group, one does not.

The time between registration as research students and dissertation was 38-51 months (unusually little).

No studies in the PhD work were started before the registration as research students.

The two foreign students did not come to Umeå for a

PhD,

the program was upgraded to PhD after some time.
The financing was the employer (not the host university) and three foundations close to Forestry (

Föreningen

skogsträdsförädling

,

Kempe

,

Skogsindustrins

forskningstiftelse

). Not the SLU budget (via faculty or department), not

Formas

, not

strategiska

forskningsstiftelser

. None of them had

doktorandtjänst

.

There are yet few "second generation research students" (no grandchild PhDs) and the carriers of the ODRA-awardees was not straightforward Academic.

We all met at Seoul (see the photo above) and thus – for a short time - formed a network.
Award winners from Brisbane 2005 are presented
OUTSTANDING DOCTORAL RESEARCH AWARD -
LIST OF RECIPIENTS
XXI IUFRO World Congress, Kuala Lumpur, Malaysia
Gangying Hui China 2000
Rudolf Kropil Slovakia 2000
Reinhold Muschler Costa Rica/Germany 2000
Volker Radeloff Germany/USA 2000
Jens Peter Skovsgaard Denmark 2000
Rahim Sudin Malaysia 2000
Run-Peng Wei China 2000
XXII IUFRO World Congress, Brisbane, Australia
John G Bellow USA 2005
Eugénie Susanne Euskirchen USA 2005
Christian Gamborg Denmark 2005
Pablo José García Canada 2005
Kyu-Suk Kang Republic of Korea 2005
Sofía Sánchez Orois Spain 2005
Bernard Slippers South Africa 2005