Hotels and accommodation in Umeå
Hotels in Umeå are listed at http://www.visitumea.se/umeaturistbyra/umeatouristoffice/meny1/accommodation.4.d2f5f1101a6b3e70c800021398.html
Bookings can be done at: http://www.umearegionen.se/umeaturistbyra/umeatouristoffice/meny1/booking.4.1ec0f32410c3983c9878000772.html and that site may offer as good oppertunities to enter the system.
The telephone number to taxi (cab) in Umeå is (090) 770000. A trip within the city (including the airport) will probably end in the range 120-190 SEK.
The conference has a special deal with hotel OK (see below), which makes it the most priceworthy alternative.
The first choice is "Björken", because it is on campus rather close to the conference site and close to the secondmost important communication centre of Umeå. But I have heard that it is filling up now.
Björken 090 108721 in business hrs, Epost: hotell.bjorken@sodexho-se.com 950 SEK single night weekdays. Difficulties are: 1) they only receive bookings in office hours (but you can do it on mail or the web; 2) internet is not free; 3) it is not the cheapest alternative; 4) there are problems with their homepage, but it can be reached from the hotel list above with some skill!.
There is a hotel close to the airport (which is only 5 km from the meeting place): Ramada Hotell Botnia, part of Best Western change 090-13 54 90. http://book.bestwestern.com/bestwestern/productInfo.do?propertyCode=88152#null There may be problems with communications. You may walk or the hotel may give you a lift or you may take a cab. If you can coordinate some of you the cab is the best alternative.
Hotel Vasa (see below) is in downtown at the central bus station (thus fairly easy to come to campus by bus) and rather price-worthy, but they do not accept weekend bookings so you can not stay there till Saturday.
Hotel Pilen is in the middle between city centre and the conference and rather priceworthy.
OK Hotell (www.ditthotell.se)
For participants in this conference, hotel OK has offered 450 SEK per night for a single room (note use the key word "seed orchard").
One problem is that you have to walk almost 3 kms in each direction (or some of you can share a cab).
Another problem is that the hotel is not manned in the night (reception closes at 20). The hotel is in the same complex as a gasoline station (OK is actually name of a consument cooperative gasoline chain), you can get keys at the gasoline station till midnight, but not later. The latest flight to Umeå arrives 23.40, you will not be in time to OK if you come with that, so when you must choose another hotel. If you are on an earlier flight but delayed beyond 23, you may call me (that is an emergency) and I will bring the keys and fetch you at airport.
A third problem is that they usually not confirm reservations by mail if it is available and confirmation is not asked for.
OK has recently installed wireless internet which is free to guests. Very close to hotel is Budget and Eurocar office so it is easy to rent a car and you need no hotel service for it.
You can see the hotel at the conference map and it is not that far (1 km) from city center.
Give the code word "seed orchard" when making your reservation!
I recommend not wait for the last minute with your reservation, it is not a big hotel and it may fill up!
.
Pilgatan 5, 903 31 Umeå
090-14 14 60
info@hotellpilen.se (el.) bokning@hotellpilen.se
Priserna varierar en del beroende på om man ska ha WC, dusch, sängkläder och frukost samt om man är medlem i STF eller ej.
Västra Esplanaden 10, 903 26 Umeå
090-77 16 50
090-77 16 95
info@umeavandrarhem.com
Priset varierar beroende på tillgängligheten av WC.
Järnvägsallén 20, 903 28 Umeå
090-18 57 18
090-18 57 01
hostel@kfum.nu
It is possible you can get some rebate if you argue that you are taken part in a conference arranged by Umeå University.
Generally ordinary hotels are cheaper the nights Friday/Saturday and Saturday/Sunday.
Free web (wireless net) is surprisingly rare, and you may find yourself without easy net communication during your stay at Umeå. At Stockholm airport you can get webaccess for 2€ an hour. Hotels are generally not cheap, close to 1000 SEK per night for week nights is common.
Ett möte som har information om Umeå åtminstonde till början av juni http://www.ling.umu.se/filosofidagarna/Umea_ToR.html
Inklusive boende (men priserna är de låga weekendpriserna) http://www.ling.umu.se/filosofidagarna/Boende.html
On the extreme simple end ("youth hotel standard") you can also find alternatives, on 2 kms away (mainly for those who stay more than 4 nights) e.g. 57,
and in downtown 3.5 kms away. They have not direct links but you can find them through the links above.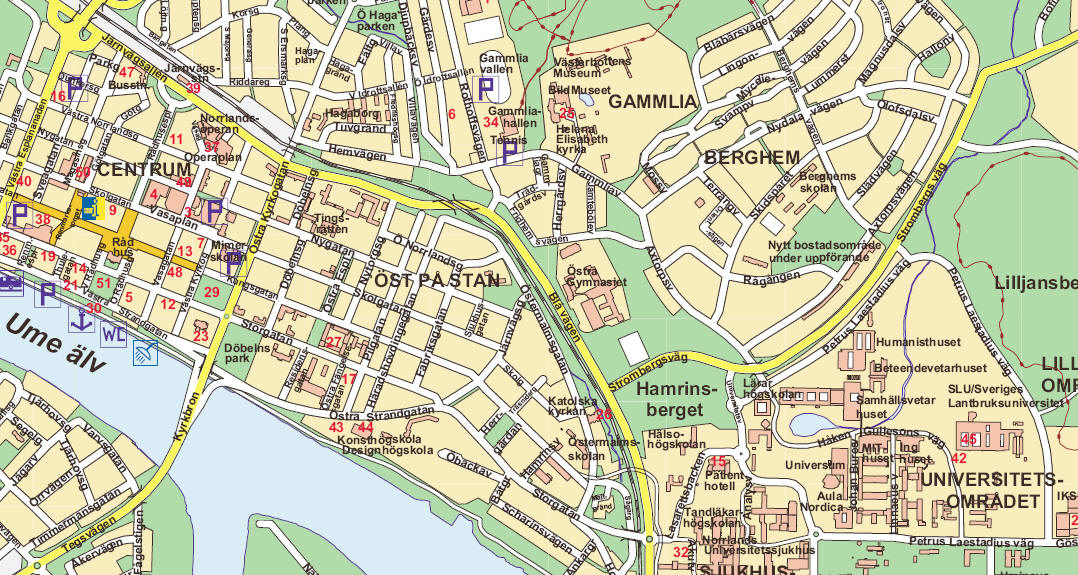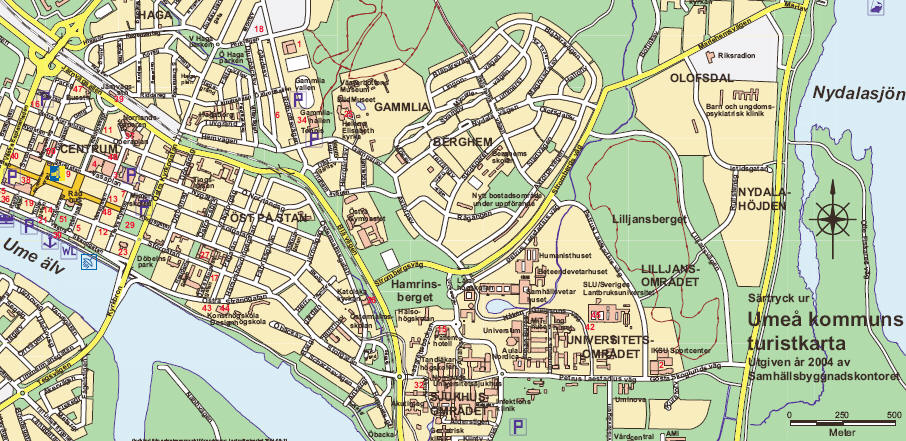 Map of central Umeå and the campus.
The conference is in house 45, hotell Björken is at number 15. Hotell Pilen, 17, OK Hotel at 18.
You may eat at Björken (15) (-19) or IKSU (2) (-20) or Röd
The party Sept 28 is at first S below 45.
If you have a car, where is a camping ground with cabins north of Nydalasjön.
Guest parking at the University area has become rather expensive (5 kr/hour), I can fix a decal which make it cheaper, but it may be to complicated to administer it.
The airport is 2 km SW of the southern fringe of the maps. There are some seed orchards behind the airport.
Maps at http://kartor.eniro.se/ Unfortunately it is difficult to glue in maps from Eniro,
If you stay in Uppsala on the way, a hotel close to the railway station from where trains (and buses) to Arlanda starts, and the train Umeå-Stockholm passes where, is: http://www.hotelsvava.com/
If you stay in Stockhom on the way, a hotel close to the railway station where buses and trains to Arlanda starts, is http://www.adlon.se/lang_uk/index.shtml
How to get to Umeå

The most convenient way to get to Umeå is by air. Two airlines take you to Umeå from Arlanda international airport – Scandinavian Airline Systems and Fly Nordic. As far as I know now the earliest scheduled flights will not fly in in time for the first presentation, thus you have to come the evening before. There is a third option, Malmö Aviation, departing from the domestic airport Bromma closer to Stockholm city centre. Some of the Malmö aviation airplanes actually start in Göteborg. If you want to stay to Sunday, a constraint is that there is no early Sunday flight from Umeå.

Umeå airport is close to the city. There is an airport bus to the campus and the distance is 5 km.

Train: (Connex) Starts initially in Göteborg, leaves Stockholm city centre 21.58, stops at Märsta (close to Arlanda) and Uppsala, arrives in Umeå 8.23, similar time table in other direction.

Participants from across the Baltic can go by boat from Vasa in Finland to Umeå or use the Jonair airtaxi (small planes with 6 or 8 seats) that has to be booked in advance (phone:+46 90 12 12 00, info@jonair.se).

There is a bus from Stockholm to Ålidhem, 1 km from the place of the conference.
And a bus from Sundsvall to Haparanda with Umeå in the middle, and from Stockholm to Sundsvall where is a train

http://www.ltnbd.se/tidtabeller/pdf/nkb.pdf
Tables including all communications with Umeå airport exists on the web of Luftfartsverket
http://www.lfv.se/templates/LFV_InfoSida_Bred____45901.aspx
Links
Umeå municipality (in Swedish): http://www.umea.se/
Umeå attractions http://www.visitumea.se/
Umeå restaurangs: http://www.visitumea.se/umeaturistbyra/umeatouristoffice/meny1/fooddrinks.4.d2f5f1101a6b3e70c800021464.html
Swedish University of Agricultural Sciences: http://www.slu.se/?id=580
Last edit Sept 2007